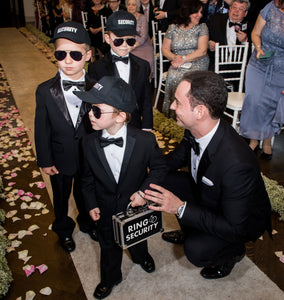 PILLOWS PUT YOU TO SLEEP. BRING BACK THE ACTION.
It's said that in medieval times, rings were presented on the tip of a sword. But for as long as we can remember, a young boy carries the wedding rings on a pillow. The same exact thing, at every wedding you've ever attended.
The Ring Legend is here to change that. It's time to modernize the wedding aisle.
Bring some action to your ceremony. Surprise your guests. Delight your ring bearers. 
See All Products
THE FULL PACKAGE
Outfit your ring bearer with the full Ring Legend look. It's sure to cause a bold reaction from your guests.
The doors open. The cap reads security. Dark shades hide his eyes. An earpiece coil runs down his neck. A ring security case is handcuffed to his wrist. This is no joking matter. Only the best security was hired to protect your rings. He's called The Ring Legend, and he's here to securely transport your wedding rings to their final destination.
The Ring Legend Package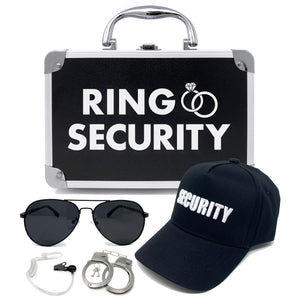 See what this video review had to say about the case!
---
✕
→
←